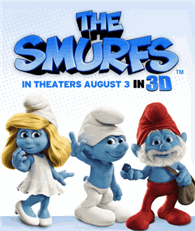 Are you a fan of the Smurfs and looking forward to The Smurfs 3D movie opening in July/August? If so, enter the Smurfs "Face of the Fan" contest sponsored by Sony and you will have a chance to win a trip for 4 to The Smurfs movie premiere where you will receive special VIP status.
To get entered, you will need to visit the contest page and submit a photo of yourself and video that explains why you should win. The entry period ends April 13. Starting on May 9, the public will be able to vote for five finalists.
Visit The Smurfs Face of the Fan contest for more information.