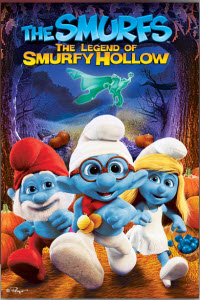 Did you hear about the new Smurf Halloween movie? It's called "The Smurfs: The Legend of Smurfy Hollow." Obviously it is a takeoff on the Legend of Sleepy Hollow, a perennial Halloween Favorite that has also been done by Disney and many other companies.
One of the interesting things about the movie is that it is not all the old cartoon style but rather part new CGI and part animation. It also has the voices from the new movies.
The movie is short at only 22 minutes, but that is typical for this type of holiday special. At only $5 for the DVD on Amazon, that isn't too bad.
Here's the official description and the video trailer follows:
"When Brainy Smurf is favored to win the annual Smurfberry Hunt for the ninth year in a row, Gutsy Smurf sets out to discover how Brainy wins every year. Gutsy's investigation takes him into spooky Smurfy Hollow-and right into Gargamel's trap! Can Brainy and Gutsy, with the help of Smurfette, put aside their rivalry before Gargamel captures them-or worse, they come face-to-face with the legendary ghost, the Headless Horseman? Featuring the voice talents of Hank Azaria (Gargamel), Alan Cumming (Gutsy), Fred Armisen (Brainy) and Anton Yelchin (Clumsy), who all reprise their roles from the film, The Smurfs."
[youtube1]w3PeAf658A4[/youtube1]
Have you seen The Smurfs: The Legend of Smurfy Hollow yet?