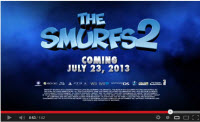 We're not surprised to see information about the release of a Smurfs 2 Video Game. Once again Ubisoft will be producing the game and it will be available for Xbox 360, PlayStation 3, Wii, and Wii U. An "interactive storytelling book and collection of mini-games" will be available for Nintendo DS.
The game can be played by up to 4 players at the same time as well as a 5th player on Wii U. The game will span 30 levels across 6 different worlds and will include the "Naughties" from the 2nd Smurf movie.
The game will be available in July. You can check out the official game video below.
[ad#adsensepost]
[youtube1]qYHv6hBsF4Y[/youtube1]