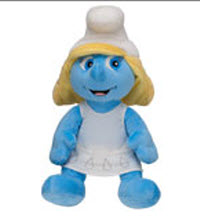 Build-a-Bear has announced a new line of Smurf products just in time for the Smurfs 2 movie release. The new Smurf characters Vexy and Hackus will be joining Smurfette in the line of plush toys.
In addition, they are running a contest where you can win a $50 Build-a-Bear gift card. Simply take a picture of your Smurfs plush from Build-A-Bear and share it on Instagram with the hashtag #IlovemySmurf. Five winners will be chosen from July 12- July 21.
In addition to the Smurfette, Vexy, and Hackus dolls you can get the following accessories:
Smurfette dress ($10.50)
Smurfette & Vexy pajamas ($12.50)
Smurf BFF slippers ($6.50)
Vexy Skirt outfit ($13.50)
Smurf Hoodie ($8.50)
Smurfs theme song (La La Song) ($7.00)
The Smurf line is available for a limited time at your Build-a-Bear Workshop as well as online.